Swedish-American Society
Newsletter, Febueary1999 Edition

President: Leland Peterson 489-7061
Web master: Larry Leonardson 721-6827
WHEN NEXT WE MEET:
Sunday, Feb. 20, 2000
Ruritan Club, Witchduck Road

Välkommen!
3:00 Setup
4:00 Fellowship Hour
5:00 Du Gamla, Du Fria;
My Country T'is of Thee;
I Jesu Namn
Dinner: Svenska Pannkakor
5:45 Business Meeting
6:00 Talk by Hans Thunander on
Queen Christine & The Thirty Years War
6:30 Sing along led by Ted Johnson
6:45 Raffle with Andy Andersson
7:00 Helsa Dem Der Hemma and
clearing the tables

Program Notes
4:00 Members are reminded to bring crackers, cheese, nuts and other snacks for the happy hour. Beverages are provided by the Club..
5:00 Laboring over the hot griddles in the kitchen will be our trio who have done this for many years: Joann Lundquist, Betty Peterson, and Margit Tunander. Lingonberries and sausages will complement the pancakes..
5:45 Georgie Unser hosted a meeting of the History Committee and a report will be given on plans for programs for the rest of the year.


7:00 Mike Hayden, custodian of the of the building for the Ruritan Club, has informed us that it will not be necessary to take down the tables and chairs after the meeting as another group meets on Monday morning. We will clear the tables and that will be it. We have also been given its space in the storage room for a cabinet, which will simplify the transportation of items regularly used in the meeting.

Swedish 101
About ten members have signed up to meet
three Saturdays a month for the next four or five months at the Larchmont public library in Norfolk. We will be using a standard Swedish textbook and study basic grammar for reading and speaking Swedish. This is an experimental program that provides a communal setting for learning the language but depends heavily upon individual initiative. This should be sufficient to enable the members to interpret the songs we sing in Swedish and to have a good basis for further independent study of the language based on other textbooks and computer software. If this program works out, we will try a similar effort in the fall. The textbook we are using is SÄG DET PÅ SVENSKA.
(Note: Leland is learning to use the Alt & number keys on the keyboard to produce the Swedish letters so hopefully there will be more in future newsletters.)
Note to Leland; Yes, I am proud of you!

OUR ADDRESS ON THE WEB:
http://members.tripod.com/~SweAmer





page 1
Program for the March meeting.
At the committee meeting hosted by Chairman Georgie Unser, Margit Tunander suggested that we have something like a quiz show for our March meeting. Contestants would be asked to ponder questions about life in Sweden and America and prizes would be awarded . Refinement of details will be worked out by Margit and the committee but this will be an interesting departure and could be a very popular program. Be ready to participate!

When Last We Met
The January meeting of the Swedish-American Society was held on January 16th. The Social Hour began at 4:00 with all the usual variety of tasty hors d'oeurves. At 5:00 we gathered at the tables to sing "Du Gama", and "My Country"Tis of Thee", led by Ted Johnson. We then our table grace, "I Jesu Namn". This was followed by the meal which consisted of the Yellow Pea Soup, the delicious breads, a variety of condiments, and the usual array of delectable desserts. Following the meal, Nellie Leonardson met with the children and led them in a workshop to make paper weights out of shells and decorative glass marbles.
Our meeting began with our President announcing that he would like to organize a group interested in learning the Swedish language. He passed a sheet around for anyone to sign who might be interested in meeting weekly for this endeavor. We then introduced new members Birgit and John Weirick, Steve and Henriette Emmanuel, and Anders and Ingrid Thorell. Don Lundquist gave the Treasurer's report. He announced that all members would received the Swedish-American Magazine. The dues would be $20.00 per person to cover the cost of the magazine and the badges. Anyone who wants a detailed report was asked to see Don. Marily Melendy announced that we would have Pancakes at the February meeting. Leland reviewed the featured entrees for the coming months: March - Rotmos Och Fläskläg, April - Lamb, May - Salmon, MidSömmer - Bring your own meat, September - Open-faced sandwiches, October - Pig Pickin'.


Herb Melendy suggested that we join with the Sons of Norway, and the Icelandic-American Club, and sponsor a class at ODU. Ted Johnson suggested that we send a letter to the symphony requesting that one night be dedicated to Scandinavian Music. Ted also mentioned getting a songbook made of the songs we would be interested in singing.
Ted Johnson then led the program with Swedish songs. Some of the songs we sang were "Halso Dem Darkemma", "Johan Pa Snippen", and "Hälsa Dem Darkemma". There were 32 adults and 6 children present.
At the end of the meeting, the raffle was held. The meeting ended by 6:45 p.m. Since we were able to leave the tables and chairs up, we were ready to go in no time. It was mentioned, as we were getting ready to depart, that the Ruritan Club had consented to having some space to install a cabinet in which to keep things that we use regularly at our monthly meetings.

Respectfully Submitted,
Georgie Unser - Secretary

CLUB OFFICERS
President - Leland Peterson 489-7061
Vice President - Alise Dilworth
Secretary - Georgie Unser
Treasurer - Don Lundquist
Newsletter Editor - Nellie Leonardson
Web Master-Larry Leonardson 721-6827

CHILDREN'S CORNER
Empty computer or music CD

cases are needed for this month's craft. Please contribute if possible.
You can reach Nellie
at 721-6827.




page 2
DIRECTIONS TO OUR MEETINGS
If coming from the peninsula, take I-64 across the Hampton Roads Bridge Tunnel, follow 64 to 264 East (144). Follow 264 to the Witchduck Road exit, after exiting, turn left onto Witchduck Road. About 1/4 to ½ mile is Ruritan Drive (fire station light is there). Turn left on Ruritan, go the end of the street, building is on the left

'Valentine's Day',
14 February and it's 'A leap Year'

February 29th occurs only once every four years. When this day appears in the calendar it is referred to as a 'Leap Year'. The day is obtained by the fact that the earth rotates around the Sun with approximately 1/4 of a day left over which is added together every 4 years giving one extra day every 4 years. Associated with all those in love, being named after the patron saint of lovers 'St. Valentine'. It was the Christian Church who popularized this day in the reign of Emperor Claudius. St. Valentine was a young priest who defied an edict from Rome and the Emperor that prohibited young males in the army from marrying.
St. Valentine defied the edict and continued to conduct wedding ceremonies and for this defiance he was executed on February 14 in AD 269.
Valentine's Day is also known as the 'Eve of Roman Lupercalia'. This was a time of great celebration, a celebration of youthful love. Chance seemed to play a large part in this festival as sweethearts were chosen by a system similar to a lottery. Since Ancient Greek and Roman times this day has held a central focus in the folkloric calendar. More recent traditions involve men and women exchanging cards which contained love dedications or even marriage proposals, each highly decorative, hand-made and personally designed. This tradition commenced in the Middle Ages. The sender then as now should never sign the card as it was considered to bring bad luck. Of course it also stifles any idea of guessing who might be in love with you. The idea of the secret admirer has long charmed both men and women alike.


Plättar


2 eggs, separated
1 egg yolk
3 tbsp sugar
1/4 tsp salt
3/4 cup flour
2 cups milk
1/4 cup melted butter
1/4 tsp vanilla
apple sauce, lingonberry sauce,
or confectioner sugar

.

1. Beat egg yolks until light and thick; beat in sugar and salt.

2. And flour and milk alternately beating until mixture is smooth. Add 1/4 cup melted butter and vanilla.

3. Let batter stand a few hours. Fold in stiffly beaten egg whites.

4. Heat pancake pan. Butter with melted butter. Pour about one tablespoonful butter into each depression. Brown on one side, turn and brown on second side.

5. To serve, spread each pancake with sweet apple sauce or lingonberry sauce. Stack 6 to 8 for each serving. Sprinkle top with confectioner's sugar.

Yield: 60 to 70 small pancakes

Note: this recipe is from Swedish Recipes Old and New, published by the American Daughters of Sweden, Chicago, 1955, pp.164-65 .

Betty no longer separates the egg yolks and uses a plain griddle for frying. Maple syrup is also very good on the pancakes, though lingonberry sauce is the best.


Page 3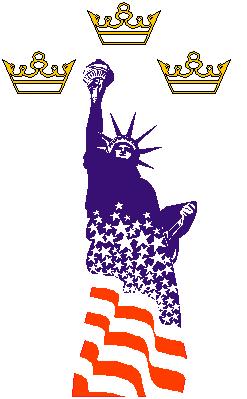 Swedish American Society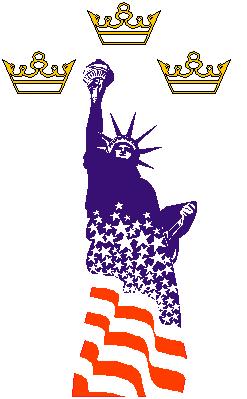 of Tidewater
The History Committee
chaired by Georgie Unser
reports this schedule of programs for 2000:
February:
A talk by Hans Thunander on the history of Queen Christina and The Hundred Years War.
March:
A quiz show directedt by Margit Thunander with Andy Andersson providing commentary.
April:
Volvo: A Swedish Industrial Triumph, by Anders Thorell.
May:
A memorial and birthday anniversary program for our Swedish American Society led by Bentley Anderson
June:
A Midsummer Day celebration with Bentley Anderson and Steve and Patti Carlson providing music..
September:
Swedish Baptists come to Minnesota in the 1860s, by Leland Peterson.
October:
Nellie Leonardson directing a play for the children.
November:
Volunteers wanted to discuss internationally famous Swedes in the arts, literature, film, or exploration, such as Edgar Bergen, Ingrid Bergman, Alfred Nobel, Ingmar Bergman, Greta Garbo, Jenny Lind, or Carl Larsson. Additional topics include famous places in Sweden and the birds Sweden. It is hoped that the number of volunteers for such programs will enable us to schedule a number of programs for the next year.
December:
Our annual smorgasbord and Sankta Lucia with Bentley Anderson presiding.